Blog Evolution ... In the state of Change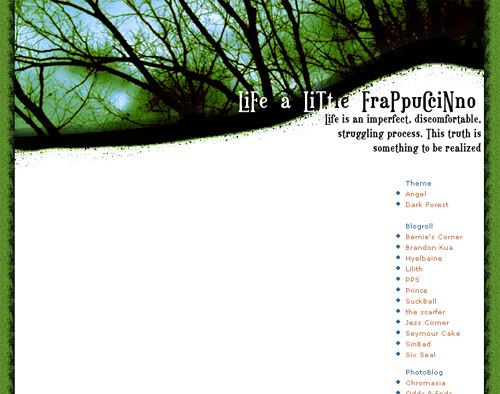 It all started on 2nd Dec 2003, when I started blogging and I have come to realize that many things have change in term of design, the journal, mindset, the title, blogsite and many more. Not that I fancy blogging, but I used to like writing poems or any story which I can play around with many beautiful words and that how I started my blog. However, as time to time, blogging somehow become a place where I find comfort or a companion and places where I can express my feeling instead of some made up stories. Kinda like, shouting on top of a mountain to release all your inner suffering. Not that I wanted to shout it to the world but it felt like, every time when I wrote something, I felt some relief in a way. Sometimes, looking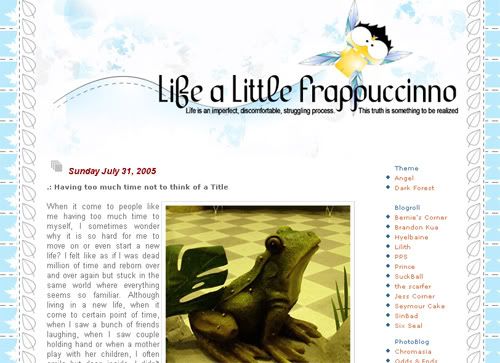 back at my old journal, I felt that some journal are just plain stupid and I always wonder why I bother writing it and some journal reminded me some of the painful memories and some happy incident happened in this past 1 year and 8 months.
Here, looking at my latest blog design... I don't know... I felt something is missing or was it too plain. In 1 years plus, I have come out with 7 different kinds of design and so far, I am only impress with 3 d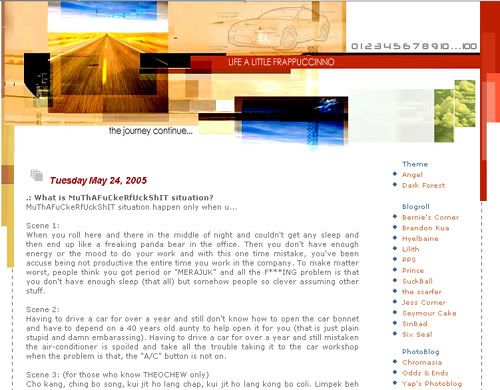 esign. Well, at least I realize that I must rely to my mood when it comes to design. I'm not some designer that can come out with anything in anytime. Not to mention, with recommendation of a friend, I change my blogsite from JRoller to Blogspot. Blogspot is easy to use but I still need time to familiar with it but compare to JRoller, Blogspot doesn't provide as much functionality as JRoller itself or probably I wasn't aware of it. However, the reason I change is because I think I destroy my JRoller blog template by implementing too much self-customization. Another reason is because it seems many people are using Blogspot, dunnu what is the big fuss is all about but I'm using it now and finding out myself. Well, cheer to change and I hope you like this blog design. Cheer!!!