My Christmas Present...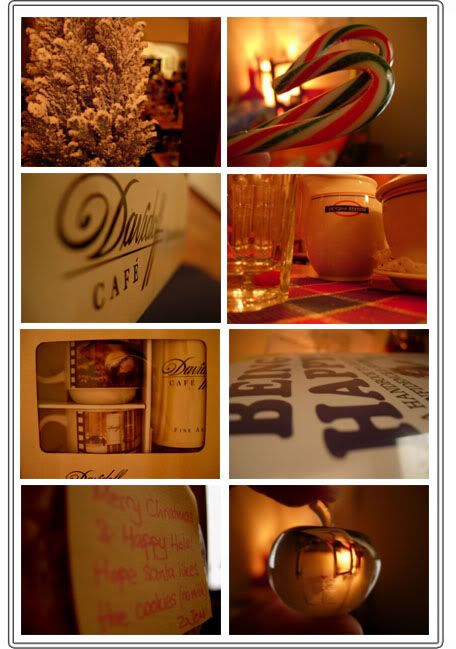 Christmas Eve was marvelous… I woke up at 7 am and then treat myself for a little of DimSum (end up eating too much and have stomach ache). Just as I thought that I was going to rest before partying at night, my colleagues call me up and ask me to join them for lunch at PJ. Since the schedule was a little tight, so I might as well dress up myself until the evening party but unfortunately, picking what to wear was another thing and I was late for the lunch. However, the one thing that was expected was the traffic jam around KL and because of that; I was even late for the lunch. Anyway, after lunch, I and my colleagues went to cinema to watched Ocean Twelve. The show was nice and twisted a little, but it would seem that the truth been reveal a bit too quick. Not to mention that, all the stunning actors and actress is one of the reason why I went for this movie. My colleagues initially wanted to watch Kungfu Hustler, but due to my unnatural hatred toward mr.Chow, they change to Ocean Twelve. I don't really know, but everyone seems to love that actor and most of them told me that he is hilarious. However, whenever I saw his show, the more I see, the angrier I got…probably because I don't really like "Lawak Bodoh" show (do people have to try this hard to make people laugh…I don't think so). However, my anti toward mr.Chow probably insulted many of his fans and my friends.
Anyway, after the show, we hang around in the shopping complex and then later at night, I rush toward KL city to meet up with another friend of my which two of us have dinner reservation in Victoria Station at Jln Ampang. First of all, I heard many critics saying how bad it was, but I have eaten a lot of time at Victoria Station but in Penang. The service and the food were really good. The captain of the restaurant knew exactly which to recommend. However, as I step into KL/Ampang Victoria Station, it was the most disappointing western restaurant I have ever been too. The service was bad, the waitress keep ignoring my call, the captain have no ideas whenever I enquiry about the foods and the worst part, everything turn up so wrongly and sadly, our drink only came after we finish our meal and that is because we keep asking the captain where is our drink and he totally ignored our order and not to forget, the food…SUCK big time and not fresh at all. Anyway, since it is Christmas, I make an exception and two of us end up meeting another 3 friends for "YamCha" (supper). Apparently, I am not full yet, so I ate again that time. My Christmas Eve was pretty great and hectic but still enjoyable. When I woke up this Christmas morning, I finally can start digging up my presents and the feeling of touching the presents and hearing the wrapping paper tore off and my mind keep wondering what the heck am I getting is all too much joyful.